Welcome to the Washington DC Branch of American Association of University Women (AAUWDC). We are glad you are here. As the first AAUW branch, founded in 1884, we at              AAUWDC have a proud legacy. You can read more about our history here.
By joining AAUW, you belong to a community that breaks through educational and economic barriers so that all women have a fair chance. Membership in the AAUW is open to anyone who holds a two-year associate's degree or higher degree from an accredited college or university. By joining the Washington DC branch of AAUW you have the opportunity to meet and participate in a variety of activities with an interesting group of women.
Find out about branch happenings including events and activities at the Branch Programs page.
Branch activities are listed below.  Follow the links below to learn more about specific activities:
You are welcome to join us any time. Simply contact the person listed for each activity to let her know you are coming.
If you are a member of the branch, you can use your password (Don't have a password? Contact Kim Webster) to enter the Members Only section of the web page. In this section you will find the current membership directory, news about members, minutes of recent board meetings, branch by-laws, branch newsletters, and other information.
If you are ready to join, you can click here to download an application form.
To subscribe to our mailings, click this link
---
BRANCH PROGRAMS 2019-2020
Monthly Virtual Lunch & Learn Conversations
(Every 3rd Friday at 1pm EST)
Racism & Gender: Exploring the Relationship Between African American & White Women
Join us as we have several open and honest conversation about the relationship between African American & White Women.  Where did it start?  What fueled the division and what we can do to repair the relationship and work together for human, racial, and gender equality.  Grab your lunch and gather your friends and colleagues for this unique lunch hosted by AAUW-DC branch from June – December 2020.
Format:
90 minutes
Video
Every third Friday of the Month
Moderated discussions with audience Q & A
Acton Oriented Conversation
All sessions will be recorded and placed on AAUW-DC Branch Facebook page.  Click here to get access to our FaceBook page.

Saturday, September 14, 2019
Annual Potluck Luncheon & Branch Meeting
3001 Veazey Terrace NW, Community Room
RSVP
12:30 – 1:15 p.m. – Social & Potluck Buffet Lunch
1:15 – 2 p.m. – Branch Meeting
Join us for our annual potluck luncheon.  We will discuss our new program initiatives, provide an update on the Nancy Grace Roman tribute and the Mary Church Terrell Foundation, and a new AAUW-DC Branch and TEDx opportunity.

Thursday, Sept., 19, 2019 at 10 a.m.
Event:  House Oversight Committee HR:51 DC Statehood
Location:  Rayburn House Office Building  45 Independence Ave SW Room 2154
RSVP:  None needed.  Just show up.

Saturday, Oct. 5, 2019 at 12 Noon Lunch
Event:  Networking Lunch
Location:  Union Market – car pooling to Arboretum
RSVP: aauwdc@gmail.com

Wednesday, Nov. 6, 2019 from 6 p.m.- 9 p.m.
Event:  Networking
Location:  Alice's Jazz & Cultural Society   2813  12 St NE
RSVP:  aauwdc@gmail.com

Sunday, Dec. 8, 2019  at 1 p.m.
Event:  Holiday Party/White Elephant exchange
Location:  Linda French's home
RSVP:  aauwdc@gmail.com

Past Branch Programs
Saturday, November 10, 2018
Annual Potluck Luncheon
Alberta's Place
RSVP: Coming soon
Time: 11:30 a.m.
Join us for our annual potluck luncheon.  Our speakers are:  Claudia Richards, AAUW Deputy Director, Member Experience and Caroline Short, Generation Hope.  Claudia will update the branch on some very important changes to AAUW and its direction for the next year.  Caroline will talk about Generation Hope and how our branch can volunteer with Generation Hope mentoring teenage mothers.

Sunday, October 28, 2018
Belmont-Paul Women's Equality National Monument
Belmont-Paul Women's Equality National Monument
144 Constitution Ave NE
Time: 11 a.m.
The Belmont-Paul Women's Equality National Monument is a historic house and museum of the U.S. women's suffrage and equal rights movements located in the Capitol Hill neighborhood of Washington, D.C. The monument is named after suffragists and National Woman's Party leaders Alva Belmont and Alice Paul. The museum additionally has exhibits about suffrage activists Mary Church Terrell, Ida Wells, and others. Additional details can be found at the museum website.
After the tour, we plan to eat lunch at a nearby taqueria.
This event is free, and open to all AAUW-DC members and supporters. We hope to see you there!

Saturday, May 19, 2018
Afternoon at the Arboretum
Visitors' Center
US National Arboretum
3501 New York Ave NE, Washington, DC 20002
Time: 6:30 – 7:30 pm
RSVP REQUIRED.
Please join us for an afternoon exploring one of DC's best-kept secrets — the National Arboretum!
The U.S. National Arboretum is a public garden, research facility, and urban green space located in Northeast DC. Comprised of 446 acres, the Arboretum is a place of research, education, and discovery as well as an oasis of open space in the Nation's capital. The Arboretum's iconic Azalea Collection is a Washington favorite with 10,000 azalea planted throughout Mt. Hamilton's hillsides. The Arboretum is also the site of the National Capitol Columns — an arrangement of twenty-two Corinthian columns, originally from the United States Capitol, placed amid 20 acres of open meadow, known as the Ellipse Meadow.
This event is free, and open to all AAUW-DC members and supporters. We hope to see you there!

Saturday, December 9, 2017
RESCHEDULED: Saturday, December 16, 2017
Holiday Lunch and Cookie Exchange
Linda's Place (RSVP for details)
Time: 1 p.m.
RSVP: aauwdc@gmail.com
Please bring $5 to help cover the cost of lunch. If you'd like to participate in the cookie exchange, please also bring a batch of homemade cookies.
We are also thrilled to let you know that Nancy Grace Roman, a long-time member of our branch, has generously agreed to speak to our group about her distinguished career in astronomy. As many of you know, Lego recently released a set honoring four key women in NASA history, including Nancy Grace! Hope to see you on December 9. More info about Nancy Grace's bio is here —
https://science.nasa.gov/researchers/sara/fellowship-programs/nancy-grace-roman-technology-fellowships-astrophysics-early-career-researchers/roman-fellowship-bio.

Wednesday, November 1, 2017
Title IX: It's Much More Than Just Sports
440 First St NW Suite 820
Time: 6:30 – 7:30 pm
RSVP REQUIRED.
Join AAUW-DC branch for an evening presentation on Title IX and its wide-ranging protections for all students and teachers. Local branch members Seena, Harriet and Amanda will provide an overview of the 45-year-old law, the areas of its oversight, and actions AAUW is taking to support Title IX in DC, including ways other branch members can be involved.
This event is free, and open to all AAUW-DC members and supporters. We hope to see you there!

Saturday, October 28, 2017
Tour of "AMERICAN DEMOCRACY-A GREAT LEAP OF FAITH"
SMITHSONIAN NATIONAL MUSEUM OF AMERICAN HISTORY
Time: 1:00pm
Please RSVP through Evite here.
Join us for a multimedia enhanced tour made especially for AAUW DC Branch of the new exhibit at the American History Museum with a look at women's suffrage. We will meet at 1pm at the Welcome Center on the second floor near the entrance to the National Mall. What a great opportunity for us to learn and discuss.

Saturday, May 13, 2017
Afternoon Tea with AAUW DC
Linda French's Home
Time: 1:00 – 3:00pm
Please RSVP to Linda at lin.m.french@gmail.com or Carolyn at carolynfrench@gmail.com by Thursday, May 11 so that we can make sure we have the right amount of food.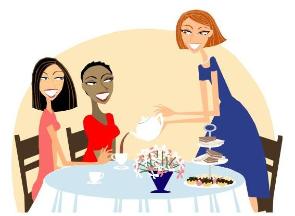 Carolyn and Linda French invite you to an afternoon tea on Saturday, May 13 from 1-3 pm at Linda's place.  Hopefully the weather will be nice and we can sit on the patio!  Please feel free to break out any of the fabulous hats in your collection too.
Menu
Various kinds of tea (including flower tea that Linda brought back from San Francisco)
A selection of scones
Tea sandwiches (smoked salmon, egg salad, and cucumber varieties)
Savory leek and mushroom tarts
Roasted strawberry and goat cheese tarts
Chocolate truffles
Transportation: There is plenty of street par
king for those driving.  There are also several bus lines that stop along Wisconsin Ave, one block from Linda's house.  It is a 25 minute walk from either the Dupont or Foggy Bottom metro.  And we can probably find you a carpool as needed.
Hope to see you soon!

Saturday, June 3, 2017
Annual Branch Meeting
Alfio's La Trattoria
4515 Willard Ave., Chevy Chase, MD 20815
Time: 11:00am – 2:00pm
Cost: $35/person
RSVP required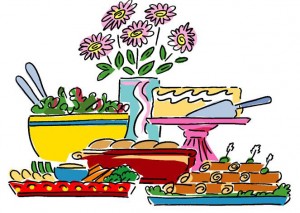 AAUW DC branch will have its annual branch meeting at Alfio's on June 3, 2017, from 11:00am to 2:00pm. Our speaker will be an AAUW National staff member. We will also present our annual budget and have nominations for open positions. RSVP required. Program details to come.