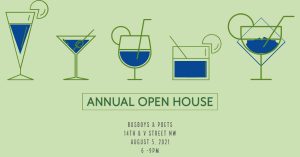 Starting 2021, the President of the Branch will host an annual open house event every summer.  It's a fun, casual event, where guests can ask questions, meet members and get a feel for the branch and its strategic goals for the year.  This event will be held at various locations within the District and will be open to members and anyone who is interested in advancing the mission of AAUW through the DC branch.  There will be food, networking, and fun!
The next Open House is scheduled for August 5, 2021 at Busboys & Poets on 14th & V Street in Washington DC.  See the following for additional information.
Event Summary
DATE: Thursday, August 5, 2021
TIME: 6-9pm
LOCATION: Busboys & Poets – 2021 14th St, NW (14th & V Street)
METRO: U Street/African-Amer Civil War Memorial/Cardozo (green line)
PARKING: Street Parking
WHAT TO BRING: A guest (not required – suggested).
To RSVP:  Click RSVP.
AGENDA:
6:00 – 7:00pm: Branch Meeting (open meeting- all are welcomed)
7:00pm – 9:00pm: Open House
Branch Meeting Details
Welcome
Update from the program committee
Update from the book club chair
Update from statehood initiatives
Update from president
Open discussion
Open House Details
Networking & Refreshments
Special Guest Welcome Remarks (Mayor's Office on Women's Policy & Initiatives – invited)
Overview on AAUW
Overview & History of AAUW-DC branch (report outs from program members and book club chair)
Networking & Refreshments
Please RSVP no later than August 2, 2021. We want to have badges and need a head count for food. If you have any questions or suggestions, please do not hesitate to ask. Working together is the key to a successful branch.
Our last branch meeting was September 2019! Looking forward to see all of you in person